Optem supports International Consultancy with growth strategy.
Optem, a professional services organisation has been supporting AID Consultancy with its re-launch and in pulling together a highly specialist team who are experienced providing international verification, compliance and audits for companies carrying out work at height and rope access activities.
Tjebbe Roestenburg, Owner and Managing Director and the current Audit Chairman & Senior Assessor for the Industrial Rope Access Trade Association (IRATA) said "Optem have been critical, as a single point solution to ensure all elements are in place to be able to service our international customers".
"They have supported us in a breadth of areas to ensure we are able to build on our 10 years of success. Everything from the international business strategy through to the business development pipeline, marketing plan and the website content and build, to name a few".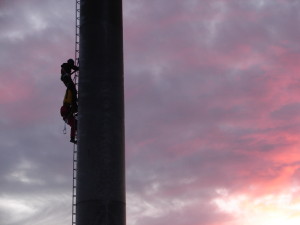 "Optem's experience in the energy industry and extensive health and safety knowledge, has enabled AID Consultancy to educate customers and key stakeholders on the importance of compliance and verification for working at height and rope access, as well as the new British Standard ISO 22846 which is now official".
Emma Bishop Director of Optem explained "falls from height remain the most common cause of workplace fatalities. This is not a unique issue to the energy sector, so to work with an organisation that covers a number of industries like Optem and has the same values in terms of managing risks and challenging unsafe behaviours and acts has been refreshing".
Optem has successfully been contracted by AID Consultancy to support further business improvement and change management activities in the medium term.
"We are committed to making a positive difference in everything we do and in delivering outstanding results for our clients, and are delighted to continue working with AID Consultancy to support their future growth and development".
For details on AID Consultancy please visit www.aidconsultancyintl.com